One of my favorite publishers is Shelter Publications of Bolinas, California. Remember the book Shelter (left), which inspired so many handmade houses in the 1960's and '70's? Then came Home Work (right), the pictorial record of 35 years of those inspired handbuilt houses–the ultimate dream book.
Now there's a new release, Builders of the Pacific Coast.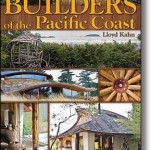 Reviewer Mike Litchfield says,
…on every page is something shocking and delightful. A boat with legs. A roof like a leaf. A caravan with eyes. A split-cedar woodshed shaped like a bird. Stair rails so sinuous and snakey they might come to life and grab you. Sculpted earth walls. Round windows and arched doors. Roofs curved like seagull wings. Grottos choked with ferns and flowers…
Check it out for yourself at www.shelterpub.com.
You'll also want to see publisher Lloyd Kahn's blog for more photos of this tapered wall greenhouse (Oct. 31 post), plus wonderful stories of his travels and lots of amazing shelter images.
Snow is falling, and falling… and falling… here in the mountains of north Idaho. It's a great time to think, to write, to reflect on what has transpired this past year.
It's been over a year since my first blog entry.  A year of traveling the country and sharing my slideshow, "YURTS: Big Life, small footprint," with readers, builders and yurt enthusiasts from Portland, Oregon to Portland, Maine.
In these next blogs I'll look back at some of the questions you asked me while I was out on the road, and some that have come through on my yurt website and forum.
I'd also like to share some of the new yurt resources I've found while updating the website. Like, for example, this YouTube yurt video of a multiplex yurt in the UK all decked out Krygyz-style for a party! And these fun scenes from Simply Yurts, an event rental company in Devon, UK.
Thank you for joining me on my yurt blog, and please do continue to leave your comments and questions. I'll do my best to answer what I can and find other experts to contribute as well…