Congratulations to  yurt builder and designer extraordinaire Howie Oakes of Go Yurt Shelters for being First Place Winner of a Portland Spaces Design Award for his Modern Green Yurt.
 The Awards article has this to say about the thirteen foot yurt:
    Inspired by innovations in sailboat design, Oakes has used breathable
canvas; curved, linseed-oiled birch; and stainless steel hardware to
build a functional and elegant hideaway. The structure can be assembled
by one person in an hour, and the heaviest component weighs a mere 30
pounds.
A true family business, you can read the Go Yurt story here , but don't try to reach Howie over the Christmas holidays. He'll be camping with his family on the beaches of Baja–in a yurt, of course.
Tip of the week–don't forget to pick up an extra hot water bottle at your local drugstore to keep your feet warm this winter! Throw it in your bed 30 minutes before you get in and your bed will be toasty warm.
Home is where the yurt is,
becky


One of my favorite publishers is Shelter Publications of Bolinas, California. Remember the book Shelter (left), which inspired so many handmade houses in the 1960's and '70's? Then came Home Work (right), the pictorial record of 35 years of those inspired handbuilt houses–the ultimate dream book.
Now there's a new release, Builders of the Pacific Coast.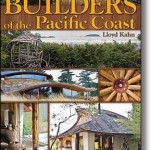 Reviewer Mike Litchfield says,
…on every page is something shocking and delightful. A boat with legs. A roof like a leaf. A caravan with eyes. A split-cedar woodshed shaped like a bird. Stair rails so sinuous and snakey they might come to life and grab you. Sculpted earth walls. Round windows and arched doors. Roofs curved like seagull wings. Grottos choked with ferns and flowers…
Check it out for yourself at www.shelterpub.com.
You'll also want to see publisher Lloyd Kahn's blog for more photos of this tapered wall greenhouse (Oct. 31 post), plus wonderful stories of his travels and lots of amazing shelter images.