Yurts in Paris?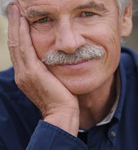 In 2003, inspired and organized by renowned French photographer Yann Arthus-Bertand, six directors set off across the world to "interview the inhabitants of the planet" on life's essential questions. Six thousand interviews later they had visited over 65 countries and filmed over 4500 hours of footage.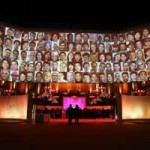 This month 450 hours of translated interviews will be shared with the world through an exhibit titled "6 Billion Others" at the Grand Palais in Paris. The showing takes place in twenty-five yurts set up as individual theaters. Each yurt theater is dedicated to one of 25 fundamental life questions ranging from money to family, love and happiness. Visitors (including over 140 school classes) will wander from yurt to yurt listening to the subtitled interviews and pondering their own relationship to life's questions.
Colorado Yurt Company created the yurts in a rainbow of colors and says they are "thrilled and honored" to participate. "Our contemporary re-engineering of the traditional yurt appealed to the artist and designers in Paris," said owner Emma Kiger. "The yurt structure is simple and elegant, plus it has the allure of a traditional, nomadic dwelling."
Setting up 25 yurts in Paris Want to see 25 yurts go up in three minutes? Check out this YouTube video! You can also learn more about this amazing project and event at the "6 Billion Others" (6 milliards d'autres) website.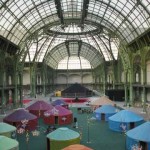 The show runs from January 11 through February 12. After it closes in Paris there are plans to take the show to other locations, including  San Francisco. Keep an eye out–those yurts just might show up in your city!
Many congratulations to Colorado Yurt Company for your participation in this great event!
May 2009 be a great year for everyone in the yurt family…
becky