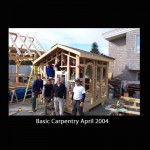 More highlights from my East Coast tour…
When I spoke at Yestermorrow Design Build School in Warren, Vermont, a lovely woman named Renee came up after my talk and told me about seeing some unique yurts in Budapest. For those of you who don't know, in Hungary yurts are considered a part of their heritage. The yurts (or yurt-inspired buildings) Renee had seen were in a kind of museum park.
I asked Renee to email photos, and here's what she said:
I found this yurt about 30 minutes outside of Budapest, in a semi-rural neighborhood just outside the Socialist Monument Park. Rather than destroying the statues that commemorated their changing history after the war, the Hungarians raised enough money to collect and transport all the monuments from Budapest (get them out of mind of the population) and re-established them in a large walled park.
In this photo, I'm inside the wall that surrounds the park.