I had the loveliest dinner last night. A true "Yurt Dinner", there were three couples who live in yurts, one couple that has spent the last 7 years building a hexagonal, yurt-like strawbale home, and two couples seriously considering yurt living.
Kim and Russell, our hosts, recently purchased a magnificent yurt  from a couple in their 70's (heading south to escape north Idaho's cold, grey winters). The yurt sits on a bluff with a view of valley and mountains for miles around.
The main floor is a 30′ fabric yurt from Pacific Yurts. When you
enter the yurt, to your right is a loft with a bathroom below (complete
with shower and flush toilet). The central loft wall adjoins the kitchen, as you can see in the picture here. There is also a study space surrounded by shoji screens for privacy.
And..oh yes…there's a sauna
downstairs…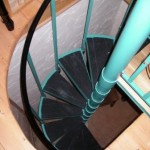 Upper and lower floors are connected by a spiral staircase. The lower floor  has walls of concrete encasing bedrooms and reading room, with a hydronicaly heated slab floor. Both sauna and hydronics are powered by electricity. Despite frequent use of the
sauna and keeping the hydronics in the mid 60's, Russell said their
last electrical bill was only $56!
Before dinner our group tromped down a snowy path to the Todd and
Monica's yurt across the road (more on Todd and Monica's in a future post). Suffice it to say it was all very educational, the group was warm and enthusiastic, and  Kim's chili and Monica's molasses cookies made for an exceptional potluck!!
Be warm, be well, and remember…
home is where the yurt is!
becky